Teledyne 23 Titanium Titan Road Bike Vintage Amazing Cond! Super Rare Collector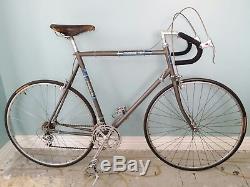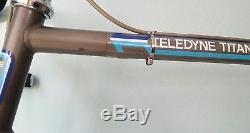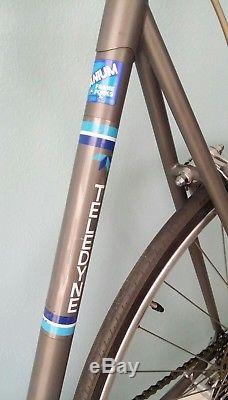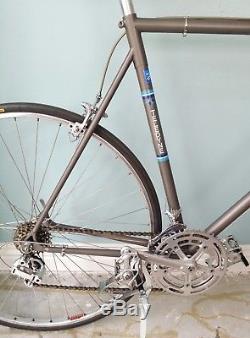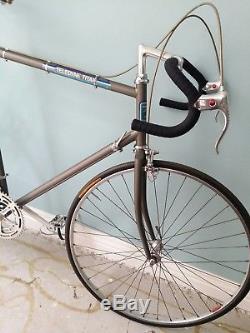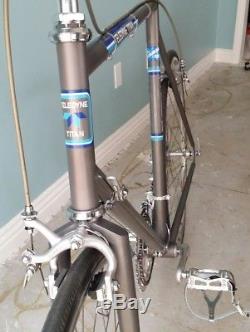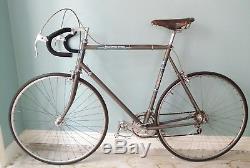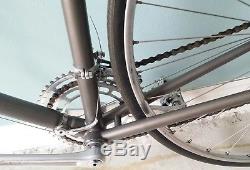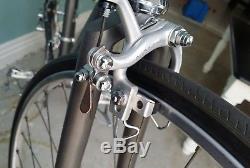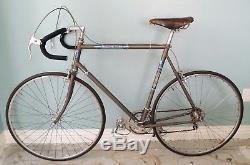 TELEDYNE TITANIUM TITAN ROAD BIKE VINTAGE IN AMAZING CONDITION! 23.5 CENTER OF BOTTOM BRACKET TO TOP OF TOP TUBE. 23 CENTER OF BOTTOM BRACKET TO CENTER OF TOP TUBE. QUILL STEM WAS OVERTIGHTEND AND SPLIT THE STEERER TUBE. STEM IS TIGHT ENOUGH FOR LIGHT RIDING BUT NOT FOR RACING.
STEERER TUBE WILL NEED TO BE REPLACED, SLEEVED OR WELDED SO STEM BOLT CAN BE TIGHTENED PROPERLY. ######## FRAME ITSELF HAS NO CRACKS OR DAMAGE ###### DECALS ARE IN GOOD CONDITION BUT SEAT TUBE DECAL HAS SLIGHT WRINKLING FROM BEING CLAMPED ON A STAND. TOP TUBE DECAL HAS A SMALL AMOUNT OF PEALING AT FRONT CORNER. ALL DURA ACE 1ST GENERATION ACCEPT CAMPY SEATPOST. THIS BIKE IS IN ALMOST ORIGINAL CONDITION. TIRES, TOE STRAPS, DERAILLEUR CABLES AND HANDLEBAR TAPE ARE THE ITEMS REPLACED. I BELIEVE THE FRONT WHEEL HAS BEEN REBUILT YEARS AGO. ORIGINAL RIM WAS USED BUT SPOKES ARE NOT STAINLESS LIKE THE REAR. THE ORIGINAL OWNER DIDN'T REMEMBER IF IT WAS REBUILT. HE WAS ALSO NOT AWARE OF THE CRACK IN THE STEERER TUBE.
THIS BICYCLE HAS BEEN IN STORAGE FOR OVER 30 YEARS. THE BICYCLE HAS BEEN FULLY REBUILT USING NEW GREASE AND IS DIALED IN! THIS IS WHEN THE CRACK WAS DISCOVERED.
THE TELEDYNE TITAN ROAD RACING FRAME IS A VERY HARD TO FIND COLLECTORS ITEM. The Teledyne Titan was the first mass-produced titanium frameset. Made of commercially-pure (CP) titanium, it had a softer ride than many present-day frames. Less than 2000 were made, and sadly, many did not survive the race-day crashes and early fatigue failures (corrected in higher serial numbered models). Teledyne Linair modeled the ride of the Teledyne on what was arguably the gold-standard of the day, a Reynolds 531 frame they hooked up to flex and strain gauges.
The Titan framesets were reinforced in areas that brought the flex ranges close (but not exactly) in harmony with the 531-tubed frameset. Many riders used these subtle differences in ride characteristics to their advantage, as you could jump out of a tight corner in a criterium much like having a spring under you. Teledyne was based in Gardena, CA, where they specialized in working with exotic metals like titanium which required special processes to fabricate frames. It is a little known rumor that the bike division was formed as a way of obtaining titanium during the cold war years of the early 1970s.
Russia is where all the titanium was at and they were not about to send military grade titanium to the USA for them to make weapons with, but bicycles was another story. The US got the titanium and the bicycle part of the company promptly died but managed to win several races. Multiple national cycling champion Ron Skarin won a Red Zinger stage and the Tour of Sommerville twice on a Teledyne Titan and Pete Penseyers won the Race Across America (RAAM) on one. The history of the Teledyne would not be complete without mentioning Barry Harvey (a British cycling champion, who emigrated to Canada), who was the first to introduce his titanium frame technology to the cycling community at the US Grand Prix in 1972. Soon after this he worked out a deal with a California aerospace company to go into the bike frame manufacturing business.
The Teledyne Titans were actually made from commercially pure titanium which is not as strong as the current 3/2.5 (aluminum/vanadium) alloy blend. The commercially pure metal was easier to work with than the harder alloys. In 1975, Teledyne was producing frames for the North Hollywood Wheelman team.
(VeloBase) THIS IS A BEAUTIFUL EXAMPLE OF THE TITAN AND WOULD MAKE AN AMAZING COLLECTORS PIECE! The item "TELEDYNE 23 TITANIUM TITAN ROAD BIKE VINTAGE AMAZING COND! SUPER RARE COLLECTOR" is in sale since Tuesday, March 20, 2018. This item is in the category "Sporting Goods\Cycling\Vintage Cycling\Vintage Bicycles". The seller is "collectinator007" and is located in Valencia, California.
This item can be shipped to United States.
Brand: TELEDYNE
Model: TITAN
Frame Material: TITANIUM
Type: Road Bike - Racing

---