Museum Piece Vintage Hardy Perfect Wide-Drum 3-1/2 with Super-Rare Check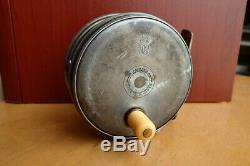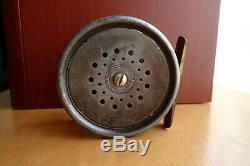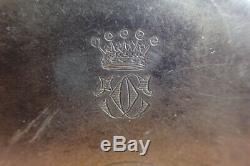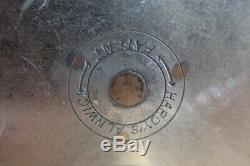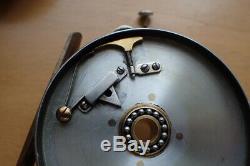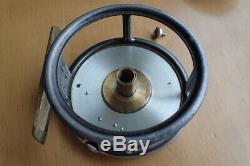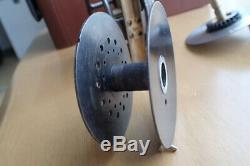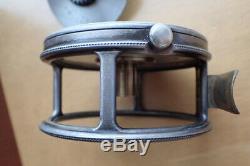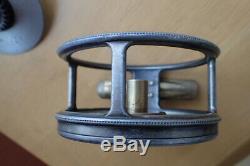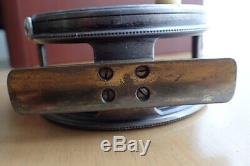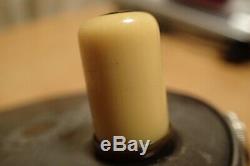 Here is a vintage wide-drum 3-1/2 Hardy Perfect with an extremely rare check made in 1915, according to the Granville Island Sport Fishing Museum that closed its doors in 2008. The museum no longer exists, but its web contents are still available on the internet.
Please search for "Granville Island Sport Fishing Museum Hardy Perfect Wide Drum 1912", and look for this reel shown and described. Below is what the museum's web site says about this reel. 3 1/2" Perfect Wide Drum 1912 England Name: Perfect Region: Great Britain & Europe Maker: Hardy Type: Fly Reels Size: 3 1/2" Year Made: 1915 3 1/2 Hardy Perfect fly reel with a 1912 check mechanism.
This reel has an ivory handle, rim mounted tension knob, smooth brass foot and a slotted knurled nickel silver drum retaining screw. Around the centre of the face plate is inscribed, "Hardy's Alnwick Patent". There is also a King's crown and two interlocking letters etched into the face plate indicating that this reel was originally owned by someone of royalty or of some importance.
The letter'S' is also stamped on the back of the face plate. If you are interested in this reel, you probably already know how super-rare this check mechanism is.
There are some variations in the 1912 check, but this is not quite a typical 1912 check, although the museum described it as a 1912 check. It's an uncatalogued, kind of a "lighter version" of the 1912 check.
What makes this reel even more rare and special is a professional engraving on the handle plate: a King's crown atop an interlocking pair of the letter "C". Considering the societal conditions in the UK and Europe at the time, I speculate that this reel was special-ordered by a member of the royal family of a country. It's hard to imagine someone outside of a royal family casually ordering a custom version of a Hardy Perfect with a King's crown engraved prominently back in the early 1900's. I did some research on the potential original owner of this reel, but could not come up with any convincing hypothesis.
This is the only vintage Hardy that I've seen with this type of engraving, in person or throughout the internet. I gave it a good cleaning and lubrication soon after I got it.
The photos shown were taken after I wiped off most of the oil and grease just for the photographing purpose. It's been re-lubricated for protection now. It's in a perfect working order. It's actually in an excellent mechanical condition.
It has many minor scratches and rubs, and some minor dents, but no cracks. I looked for cracks very carefully with a magnifying glass, but could not find any.
There are no signs of modifications or repairs. There is a hint of line rubs on the frame, but no grooves. Perhaps the original owner was too busy with important matters of his state to fish much...
It was an extremely turbulent time in Europe back then. Overall, this reel is in an excellent condition for a 100+yo vintage. So, if one dares to fish with it, it would perform flawlessly. It's a right-hand-wind model.
It can be used as a left-hand-wind, but not recommended due to the design of the spool securing mechanism. It weighs approximately 240g or 8oz.
I do not know its line capacity, but can figure it out if anyone considers purchasing this for actual fishing. Please note that its foot does not fit reel seats of modern fly rods. The foot is about 78mm (3-1/8") long and 16mm (5/8") wide. I had such a luck in acquiring this piece of fly fishing history a few years after the museum was closed.
I personally consider this as a wonderful investment also, a treasure that I can hold in my hand and admire and, if I dare, I can fish with. More stocks can be issued out of thin air by corporations. More gold can be dug up out of the ground by miners. But, this unique piece of fly fishing history cannot be duplicated. Its intrinsic value remains the same. It has served as a great conversation piece also. Please do not contact me asking for discounts, as I would not mind it at all if I end up keeping this piece of fly fishing history. I do not sell cheap items. It can go up or down slightly. The item "Museum Piece Vintage Hardy Perfect Wide-Drum 3-1/2 with Super-Rare Check" is in sale since Thursday, June 13, 2019.
This item is in the category "Sporting Goods\Fishing\Reels\Fly Fishing Reels". The seller is "fishordie" and is located in Yamaguchi-shi. This item can be shipped to United States, all countries in Europe, Canada, Japan, Australia.
Reel Type: Single Action - Conventional
Model: Perfect
Country/Region of Manufacture: United Kingdom
Fishing Type: Fly Fishing
MPN: Does Not Apply
Hand Retrieve: Right-Handed
Brand: Hardy

---