Vintage Kramer American Showster Savant II 1988-89 Guitar Super Rare Nice Red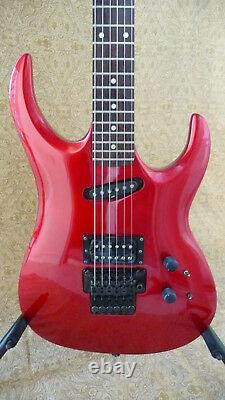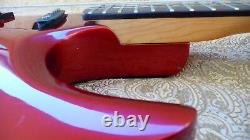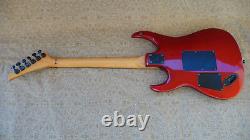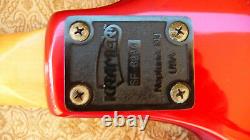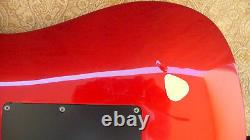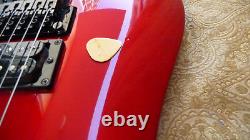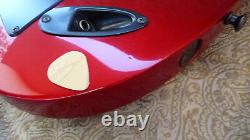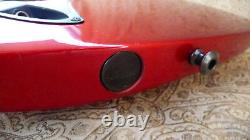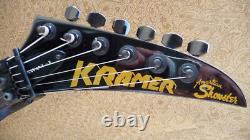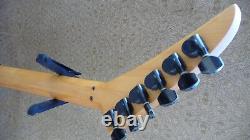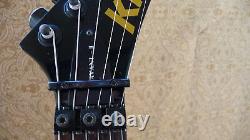 This is a HIGHLY SOUGHT AFTER RARE Kramer American Showster Savant II Electric Guitar. A TRUE HEAVY METAL LEGEND With "Metal Loading" - There is a metal bar that runs through the body under the high strings for sustain- SEE PHOTOS FOR BAR. Candy Red Thin, straight neck (Hardly any fret wear, at all) Lots of history and stories behind these guitars! Input jack is at the REAR Floyd Rose Lic. See photos for various dings and dimples.
The largest ding is on the back of the guitar. I've placed a guitar pick pointing toward the most notable dings/dimples. There is a very slight bit of buckle rash that can be seen in one of the photos.
There is also an area about an inch and a half long where the paint looks to be rubbed off. It's right on the lower edge of the back of the guitar.
It's barely noticeable, but I pointed it out with a guitar pick pointing toward it in the photos. It might even buff out. It is possible that it could be something on the top clear coat of the guitar.
You will also see in the close up photo of the tremolo locking system at the nut; there is one non-original hex locking bolt. It is the one on the treble (high E and B string) side of the guitar. I'm trying to be as descriptive as I can here, so there will be no surprises. Honestly, from a few feet away you would have to have very very very good eyes to see the issues that I mentioned above.
All in all, this is a beautiful example of a great late 80s Metal Machine This guitar plays and sounds fantastic. It is a true joy to play.
It's a very sexy guitar that feels great. It's amazingly comfortable while playing. The action is set low and Floyd Rose Licensed Trem System rocks.
I'm really skeptical about letting it go but currently, I have way too many guitars. It is time for many of them to find a new home..
These guitars were considered very pricey and were a very limited run guitars back in 1988/89 and are EXTREMELY HARD TO FIND these days. After all these years, the American Showster Savant II is still in high demand.
Rarely do I go overboard regarding comments about the way a guitar sounds, but this one is an exceptional METAL guitar with lots of sustain and grunt. It will also do well in any other genre of music, but it really shines with Metal and all things Rock. If you need more photos just simply let me know. I'm happy to send them to you.
More Information from the World Wide Web. The Kramer "American Showster" Series. In 1986, Kramer joined forces with Rick Excellente and Showster guitars out of New Jersey and collaborated on developing a new line of guitars for Kramer. Showster guitars was best known at the time for their "tailfin" shaped bodies reminescent of the 1957 Chevy tailfin shape.
Other works were the motorcycle gas tank-shped guitar bodies. It was while Excellente was working on the metal-loaded design that he realized the advantage of using metal as part of the guitar body's mass. The new Kramers were promoted in 1988 but, as Kramer was, promised the guitars before they could deliver. The realistic release wouldn't come until 1989. It was rumored that this new line was to help pull Kramer out of the financial hump it was in.
The idea for the metal piecing on the body (which was afixed to the inside or outside of the lower treble bout depending on the model) was to properly balance the response of the treble strings to the bass strings. The metal in the bodies would take several forms.
By utilizing the metal inserts, the body didn't need as much mass for resonance and therefore could be thinned out substantially. Made in Korea, there were basically three types of Showsters-the Metalist, Metalist XML and the Savant. Common features between the three were pointy headstocks, bolt-on maple necks with 22 fret rosewood fretboards, somewhat heavy scalloped double cutaway bodies, Floyd Rose, dot inlays and Duncan pickups. Input jacks were on the backside of the guitar. The Metalist came in three forms- I, II and III. All featured an internal metal plate with a chrome rim on the lower bout. The Metalist I had a single hum with volume and tone, the Metalist II had one hum and a neck single coil, volume, tone and a three way select. The Metalist III sported the HSS config with o0ne volume, two tones, five-way select and coil tap switch.
Next was the Metalist XML which was basically the same as the Metalist but with a black metal wing on the lower bout. This also came in three versions-XML I, XML II and XML III. Unlike the other Showsters, the Savant's metal load was completely internal and showed no trace on the outside of the body. There was the Savant I, Savant II, and Savant III. The Metalist I, Metalist XML I and Savant I all with the single humbucker layout did not last long before they were replaced with the 1+1(Metalist 1+1, Metalist XML 1+1 and Savant 1+1) which added a middle position humbucker and three-way select.
This model later sproted coil taps also. Mid 1989 saw the entire Metalist XML line dropped.
Colors for the Showsters were black, white, candy red and candy blue. Note: Most of the Showster models will have the common black faced pointy droopy headstock with the Showster S/S logo. Also bear in mind that the total number of Showsters that made it out the door is unknown. Some speculate that certain MODELS never went out but It should be noted that, in all probability, not many Showsters did see the light of day before the demise of Kramer.
The Showster line continued even after the demise of Kramer under their own name. From time to time, you will see some non-Kramer Showsters that look identical to the Kramers (minus the Kramer logo) for sale.
PLEASE BE AWARE IF APPLICABLE. This is an all sales final, no return listing. All payments will be in USD (UNITED STATES DOLLARS).
If Item is defective, YOU MUST notify us within 48 hours of receipt. We do not tolerate fraudulent practices and as such, we have recorded and retained item details in our records. Any suspected fraud will be reported to the proper authorities immediately! If you've simply changed your mind and want to return a Brand New product, DO NOT OPEN IT. ITEM(S) WILL NOT BE ACCEPTED UNLESS UNOPENED.
The only opened product we will accept is one that is defective (WITHIN 48 hours). If the item(s) are not defective, you have 48 hours to inform us of your intent to return. It is our pleasure to answer you in a prompt manner. THIS ITEM IS ALSO BEING ADVERTISED LOCALLY AND THEREFORE, AS A RESULT, I RESERVE THE RIGHT TO END THIS LISTING AT ANYTIME TO FACILITATE A LOCAL SALE OF SAME!
DON'T MISS THIS RARE OPPORTUNITY! ALL PHOTOGRAPHS IN MY AUCTIONS ARE OF THE ACTUAL ITEM(S) BEING OFFERRED AND ARE COPYRIGHTED MATERIAL. The item "Vintage Kramer American Showster Savant II 1988-89 Guitar Super Rare Nice Red" is in sale since Thursday, March 21, 2019. This item is in the category "Musical Instruments & Gear\Guitars & Basses\Electric Guitars". The seller is "djam777" and is located in USA.
This item can be shipped to United States.
Body Color: Candy Apple Red
String Configuration: 6 String
Model: American Showster Savant II
Model Year: 1988-89
Type: Electric Guitar
Dexterity: Right-Handed
Body Material: Solid Wood
Brand: Kramer
Body Type: Solid

---